WALES UK ULTRA EXPEDITION
TRAVEL DATES:

TBD, 2023


ROVE Challenge Index

[ 3 ]

Explore charming villages, historic castles and gorgeous coastal capes with a small group of adventurous travel enthusiasts across Wales Snowdonia.

From Snowdonia and Brecon Beacons National Park, through the Cambrian Mountains located in the middle of the country, you will truly discover and experience the magical allure of this region of Great Britain.

We will guide you on some of the world's most famous hikes passing picturesque pools and falls for stunning windswept views across rolling landscapes. Wales offers more castles per square mile than anywhere else in Europe. We will take time to explore Conway Castle and Castell Dinas Brân. Both sites are truly special and offer a glimpse into the past of this great land.

Along the way we will stay in once-in-a-lifetime historic castles, inns and other accommodations.

We will enjoy dining at unique dining establishments to sample the country's fair with daily hearty meals and stop in at local pubs for fun local experiences. We will make sure you get an opportunity to taste all that Wales has to offer.

To add to the excitement, we will spend half of a day participating in a Land Rover Experience on the grounds of a castle where our participants will have an opportunity to drive Land Rover Defenders and Range Rovers through a controlled off-road course. Children 11 years and older will get the chance to drive a challenging off-road course as well. This experience will help in preparing us for some of the backroads we will take through on this journey. Those not feeling confident enough to drive such roads may opt for a more direct, but still very scenic unpaved route.

There is no better way to experience Wales in all of her grandeur than to drive and ride along in comfortable Land Rovers following your guide who is leading the way.

We are confident you will come away from this adventure truly connected to the people, the land, and ancient culture that is Wales, United Kingdom.
Notify me!
Please complete the form below if you would like to be notified when this itinerary is scheduled.
Departure/Return Location

TBD

Departure Time

8:00AM

Return Time

7:00PM

Dress Code

Casual dress; PNW Summer outerwear and hiking gear suggested (rain jacket recommended)

Included

Accommodations

Camping Gear

Expedition Guide(s)

Field Expert(s)

First Aid

Meals

Transfers

Transportation

Vehicle

Vehicle Fuel

Vehicle Insurance

Not Included

Airfare

Climbing Gear

Diving Gear

Gratuities

Helicopter

Internal Flights

Trip Insurance

Watercraft
ROUTE MAP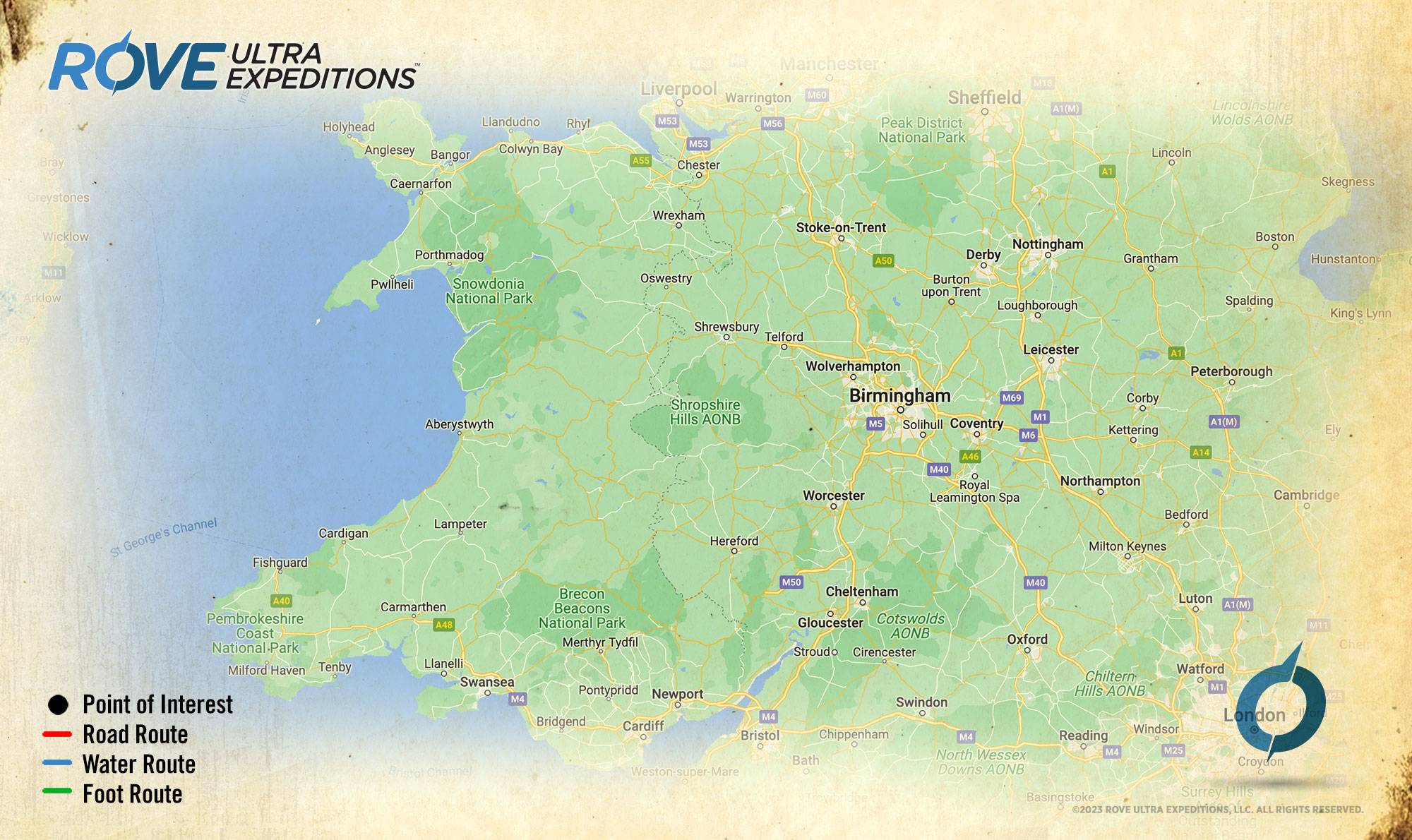 Details coming soon.