TRAVEL DATES:

September 16-19, 2023


ROVE Challenge Index

[ 2 ]

This year's adventure takes us on an amazing journey exploring the Southern highlands of Iceland. The journey will feature many geysers, waterfalls, overland trails, a geothermal plant, gorges and remote camping near Landmannalaugar.

The Þórsmörk nature reserve is well known for its natural beauty and stunning views. Its remote location affords an excellent opportunity to drive modified 4×4 Land Rover Defender "Superjeeps" through the beautiful landscape with towering glaciers and volcanoes all around. The Superjeep drive includes the crossing of multiple glacial streams and rivers that flow from underneath the Eyjafjallajökull Glacier and carve the valley all the way to the ocean on the south coast of Iceland.

Along the way we'll observe the effects of the 2010 Eyjafjallajökull volcanic eruption and visit the Gígjökull glacier where the evidence from the eruption is clearly visible. From there we head further into Þórsmörk, crossing the famous Krossá River along the way. In Þórsmörk we enjoy a light lunch at the Volcano Huts followed by an optional walk to enjoy the best views of the area before heading back on our Superjeep truck.

This tour combines the adventurous off-road drive with the serenity and scenic beauty of the Þórsmörk Nature Reserve and the Eyjafjallajökull Glacier & Volcano. The tour starts from the Hamragarðar campsite but you can also choose a pick-up service from hotels and accommodations in the area. Scroll down to book this tour and to find photos and further information in our FAQ section about this tour.

We will explore the Fjallabak Nature Reserve, the little oceanside village of Vik and eventually make our way through many river crossings to Þórsmörk lodge for two evenings of comfort and camaraderie.

The next day, we will traverse the Almenningar 4×4 trail, navigate over the Stakkholtsgja Canyon and return to our lodge for the evening. Finally, we will return to the Fjallabak Nature reserve, where we will explore Markarfljot Canyon and Alftavatn. Ending the day visiting the Hellisheidi Geothermal power plant, where we will learn about Iceland's geothermal activity and how it powers the country.
Departure/Return Location

Bus Stop 3, Reykjavík, Iceland

Departure Time

8:00AM

Return Time

7:00PM

Dress Code

Casual dress; Arctic outer wear and hiking gear suggested.

Included

Accommodations

Camping Gear

Expedition Guide(s)

Field Expert(s)

First Aid

Meals

Transfers

Transportation

Vehicle

Vehicle Fuel

Vehicle Insurance

Not Included

Airfare

Climbing Gear

Diving Gear

Gratuities

Helicopter

Internal Flights

Trip Insurance

Watercraft
EXPEDITION ITINERARY
8:00 AM Pick up at Bus Stop #3 in Reykjavik and drive by bus to Volcano Trails HQ's
9:00 AM Departure

Þingvellir National Park
4x4 Trails North of Mt. Skjaldbreiður -
Geysir Hot Springs ○ Gullfoss Waterfall
13 pm Picnic lunch stop
Fuel stop at Hrauneyjar Highland Center

7:00PM dinner
Accommodation options 

Mountain Hut Dormitories in Landmannalaugar

Shared sleeping quarters with toilets and showers in a separate building

2-star highland hotel - DBL rooms with private bathrooms - 40 km from Landmannalaugar

Meals
Activities

Traversing various F Roads in Expedition Vehicles

Transportation

2 Guide Vehicles
Land Rover Super Defenders on 37" tires.
8:00 AM Breakfast
9:00 AM Depart from accommodation

Spend the day driving 4x4 trails in the Fjallabak Nature Reserve
VÍK ocean side Village
Skógafoss Waterfall

7:00 PM Arrive at Volcano Huts

Dinner & campfire
Optional evening walks in Þórsmörk

Accommodation (options at the Volcano Huts)

Private double rooms
Sheepherders cottages - bunk beds

Meals

Breakfast
Lunch - Sack lunch in the field
Dinner - Volcano Huts

Activities

4x4 overland driving
Geographic sightseeing

Transportation

2 Guide Vehicles
Land Rover Super Defender 37" tires.
8:30 AM Breakfast at the Volcano Huts
10:00 AM Exploration of Þórsmörk

Almenningar - 4x4 Trail
Lunch at Volcano Huts
4x4 Trails into Þórsmörk
Stakkholtsgjá Canyon Exploring - Guided walk to the hidden waterfall
Return To Volcano Huts around 5:00 PM

7:00 PM Dinner & campfire at the Volcano Huts
Special Note: Balanced day with short driving distances, optional walks and sightseeing - Anyone who is not keen on driving all day can opt to sleep in, join for a half day, go for a hike or relax at the Volcano Huts.
Meals

Breakfast
Lunch - Picnic Lunch
Dinner - Volcano Huts

Activities

4x4 Driving
Optional walks/hikes
Guided Canyon Tour

Transportation

2 Guide Vehicles
Land Rover Super Defender 37" tires
8:00 am Breakfast at the Volcano Huts
9:00 Spend the day driving the Fjallabak Nature Reserve on the way back to Reykjavik

Markarfljót Canyon
Álftavatn

Reykjavik River Trail

Visit the Hellisheiði Geothermal Powerplant
Arrive back at vehicle facilities 5:30 PM
Return to Bus Stop #3 in Reykjavik

7:00 PM Final dinner in Reykjavik
Meals

Breakfast
Lunch - Picnic Lunch
Dinner - Volcano Huts
Activities

4x4 Driving
Hellisheidi Geothermal Power Plant Tour

Transportation

2 Guide Vehicles
Land Rover Super Defender 37" tires
ROUTE MAP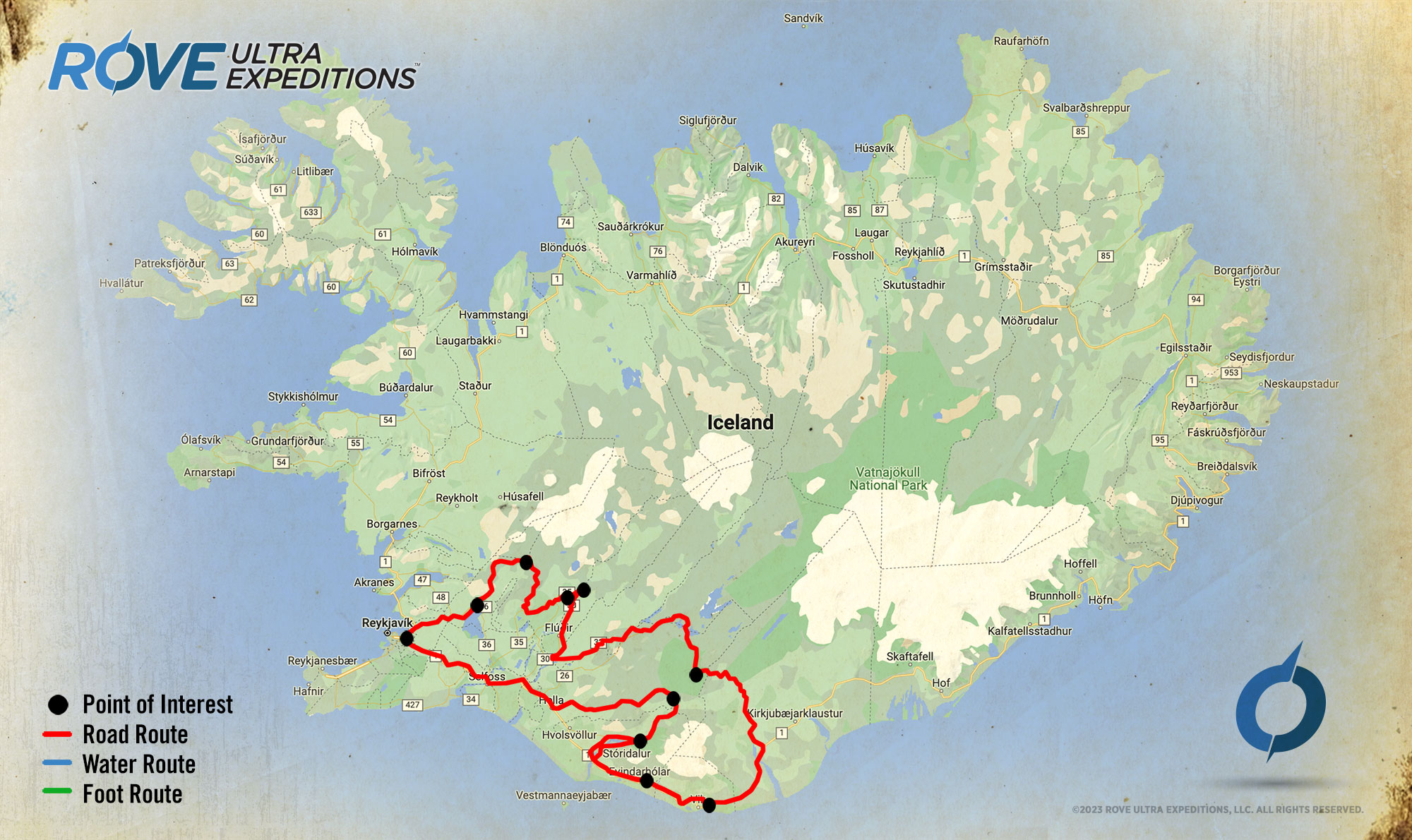 Reykjavik, Iceland
Reykjavík is the capital and largest city of Iceland. It is located in southwestern Iceland, on the southern shore of Faxaflói bay. Its latitude is 64°08' N, making it the world's northernmost capital of a sovereign state. (Wikipedia)
Fjallabak Nature Reserve
Fjallabak Nature Reserve ("Friðland að Fjallabaki") is an area in the Icelandic Highlands surrounding Landmannalaugar. The area is situated more than 1640 feet (500 metres) above sea level. The area offers beautiful scenery, geothermal valleys and volcanic activity. The color of the mountains in the area is due to the rhyolite and obsidian making the ground appear yellow, blue, green, pink, and red. The Nature Reserve also features lava fields, rushing rivers and beautiful clear lakes.
Stakkholtsgjá Canyon
Stakkholtsgjá
is a glorious canyon, located in Southern part of the Icelandic Highlands. The canyon is well-known for the stunning, picturesque hiking trail that leads to a stately waterfall. The gorge is a part of the Þórsmörk Nature Reserve. Stakkholtsgjá is measured at approximately 328 feet (100 meters) deep. Hikers will experience a memorable trek on this hike.
Markarfljót Canyon
Hiking up to the cliffs of the Markarfljót Canyon offers beautiful views over the Þórsmörk area, the Markarfljót River, the Laugavegur Hiking Trail and the neighboring mountains such as Tindfjöll and the Eyjafjallajökull volcano & glacier.
The Hellisheiði Power Station
The Hellisheiði Power Station is the eighth-largest geothermal power station in the world and largest in Iceland. The facility is located in Hengill, southwest Iceland, 11 km from the Nesjavellir Geothermal Power Station. (Wikipedia)